JiraCon23 is a wrap! This year's conference was one for the books. Let's look at the numbers, the winners, and give all the kudos due to everyone who made this happen!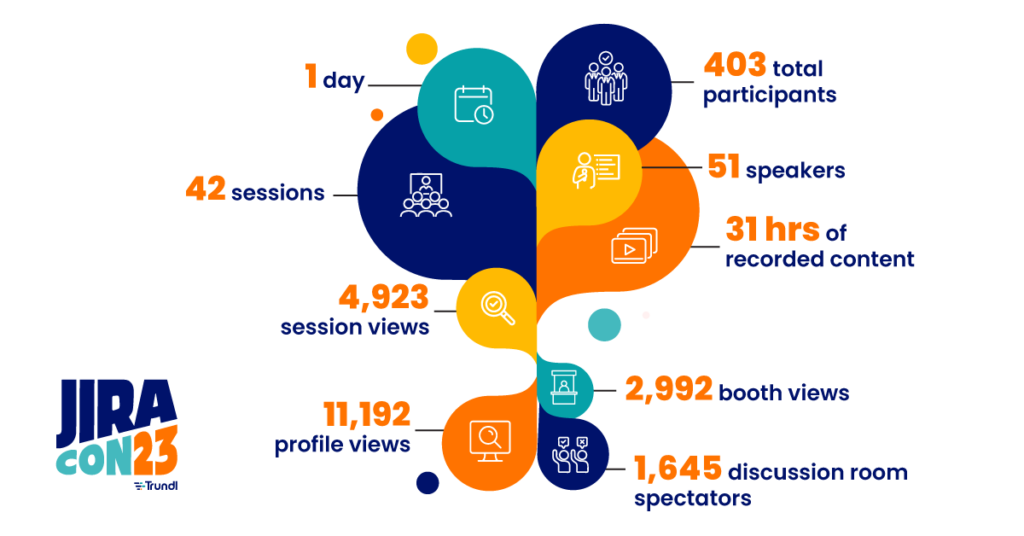 This year's session list continued a tradition of delivering compelling topics for the Atlassian user community. Moreso, we have so many sessions going on every single hour, it's often hard for attendees to choose between sessions. A shout out to some of our most popular sessions.
Watch for these on our YouTube channel after December 3rd, 2023.
Jira Service Management Fundamentals, Katarzyna Pawlak & Krzysztof SkoropadaSAFe® in Jira: Scaling Agility with Agile Hive, Jamale Harris
Agile in Service Management, Phill Fox
Next Level Jira Automation in your Browser
Jira & Confluence: Harder, Better, Faster, Stronger Together, Charlotte Aleksandrowicz
Test Smarter (Not Harder) with Model-Based Test Design, Conor Wolford
This year, we wanted to incentivize participants to join sessions, to engage with speakers, and to connect with sponsors. We attributed points values to various activities during the conference and encouraged attendees to complete them. To help them along, we ran a raffle for the top 100-point scorers for some cool tech.
Congratulations on the following raffle winners:
Apple Watch: Cynthia Wood, Tyler Technologies
Oura Ring: Sid Pathirana, Atom Bank
Xbox Series X: Ryan Sanders, YearUp
One of the fun parts of planning for JiraCon is what we do for our opening session. Like last year, we chose to have Mark Cruth bring the voice of Atlassian. He took his "Modern Work Coach" role literally with a Ted Lasso Infomercial. Anyone who works with Mark knows he comes prepared, positive, and poised. Thank you Mark! You can check out his video in Mark's LinkedIn post or watch it on our YouTube channel after November 3rd.
Ticketholders: Don't forget the recordings! JiraCon23 is not limited to Oct 4th. There's 31 hours of recorded content that ticketholders have exclusive access to until December 3rd. It's easy. Just use your event login at jiracon.trundl.com and access all the sessions.
This event is always months in the making, involving a small group at Trundl. Special thanks to Megan Keith, Vickie MacLean, Varun Kancherla, Ajeet Kumar, Azhar Uddin, Ankita Rath, Amarendra Kumar Avinash, Sajit Nair, Cidoni Brind, and David Grizzel. for their combined efforts on organizing sessions, communicating with sponsors, establishing the look and feel of the event, and for sharing the word! The Trundl team at large (~80 employees) came together for this event, so thank you for your commitment and contributions!
JiraCon23 wouldn't have happened without all of the speakers and their efforts to bring their experiences and voice to Atlassian customers. Shout out to Brendan Byers, Phill Fox, Colin Helke, Jamale Harris, Anna Odrynska, Liubov Topchyi, Anand Inamdar, Ed Gaile, Craig Willson, Katarzyna Pawlak, Krzysztof Skoropada, Andreas Haaken, Johanna Pichotka, David Berclaz, Guillaume Vial, Craeg Strong, Dominic Williamson, Joe Flowers, Nicole Pitaro, Scott White, Kresmir Nikolic, Erica Larson, Teresa Burtscher, Barbara Schwarzwald, Nikolas Witt, Ilze Leite-Apine, Charlotte Aleksandrowicz, Samie Kaufman, Dan Tombs, Hannes Obweger, Jose Ramirez, Andy Barker, Ian Bradley, Prabhu Palanisamy, Brittany Joiner, Punit Samtani, Rupal Der, Jens Schumacher, Fei Lauren, James Ciesielski, Lior Neudorfer, Aaron Geister, Ravi Sagar, Piyush Annadate, Rodney Nissen, Cidoni Brind, David Grizzell, Sajit Nair, Brant Schoeder, Conor Wolford, Jose D'Almeida, Petruta Paraschiv, and Patrick Schuβler!
Lastly, thanks to the great sponsors – we couldn't have done it without you!
eazyBI, Xray, Decadis, Agile Hive, Qmetry, Caelor, Salto, APTIS, Elements, JXL, Onward, AppFox, Alpha Serve, Communardo, and Yasoon.